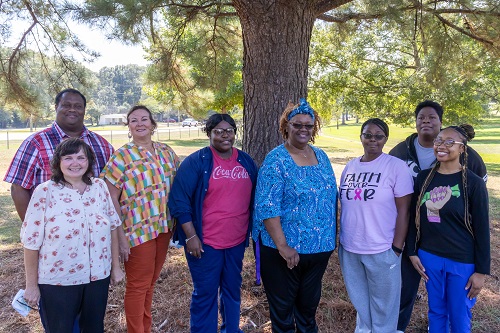 Tue, 10/31/2023 - 00:00
Ellisville State School hosted their Direct Support Employee of the Month on September 19, 2023, and many Jones County natives were recognized for their work. 
The winners of the July and August Employee of the Month were combined into one ceremony. Winners for the Month of July are Kendra Lyons of Laurel, Michela Moffett of Laurel, Cedrick Lawrence of Laurel, and Jamie Jackson from Marion County.  
Winners for the month of August are Shannon Bates of Ellisville, Nathaniel Emmons of Laurel, Georgia Ducksworth of Laurel, and Candice Ledet from Jefferson Davis County.
Rinsey McSwain, Agency Director of Ellisville State School, presented the awards to the winners and congratulated them on the honor.  The ESS Family and Friends Association sponsors the monthly recognition event.