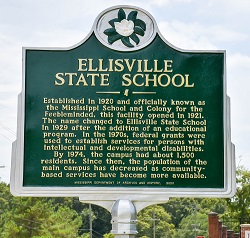 The history of Ellisville State School is closely tied to the historical events that have shaped our nation and our state. In 1920, Governor Lee Russell signed the "Law of Mental Deficiency," establishing the "Mississippi School and Colony for the Feebleminded." A site south of Ellisville, Mississippi, was selected, and the institution was opened in January 1921. The original "colony" consisted of eight people who transferred from Mississippi State Hospital. The original building on campus was a wood-frame commissary that was previously used by a local lumber company.
In 1922 a farmhouse was remodeled and a small hospital cottage was erected. The first school opened on campus that same year, with 20 of the 80 people on campus attending classes. Those who lived there also worked in the houses, laundry, farm, and garden areas. The population increased to 102 - all males - by 1923.  Females were not allowed admission because no facilities were available to house at that time. The first female dormitory was constructed in 1928, and in 1929 the population had increased to 51 males and 88 females.
In 1929, the name of the program changed to Ellisville State School. That was the year of the stock market crash. More than 150 persons with disabilities at Ellisville State School were released due to the budget deficit. However, by 1931 the population had grown to 319. Financial problems in 1933 saw the population drop to 269 as employees were discharged.  Employees who stayed received a 50%-60% salary cut. After that, the population slowly began to increase and was back up to approximately 386 in 1941.
In 1961 Ellisville State School, along with the Department of Education, Division of Vocational Rehabilitation, used funds under the federal Hill-Burton Act to construct a rehabilitation facility on the campus. This program was jointly operated by the Division of Vocational Rehabilitation and Ellisville State School.  This new program provided training opportunities and vocational placement services for people with intellectual and developmental disabilities throughout the state and established vocational training as a priority at Ellisville State School.
In the early 1970s, Ellisville State School applied for and received millions of dollars in federal grant money to establish needed programs and services.  By 1974 approximately 1,500 people resided at Ellisville State School, which had a staff population of only about 500. During the next several years, the "deinstitutionalization program" called for the establishment of community-based apartments and group homes. In addition, regional programs were opened across Mississippi. These programs accepted people with disabilities whose families lived near the newer agencies.
In 1992 the first ICF/MR (Intermediate Care Facility for the Mentally Retarded) licensed community home opened in Ellisville and housed ten females. The first Special Touch Training Center also opened at this time to provide vocational training to the people living in the community home. Over the next few years, a total of sixteen additional ICF/MR licensed community homes were constructed in Ellisville, Waynesboro, Taylorsville, Sumrall, Richton, Prentiss, Columbus, Lumberton, and Bay Springs.
In 1995 the Home and Community-Based Waiver Program was initiated for persons in their homes that had intellectual and developmental disabilities, provided they were Medicaid eligible and required a level of care similar to that received in an ICF/MR setting.
During the past few decades, the population on the main campus has decreased as more people moved to community living arrangements and programs were established to provide services in the home. Today approximately 200 people reside on Ellisville State School's main campus, while more are served through community services.  The program employs approximately 1,100 employees. The future of Ellisville State School is tied closely to the development of community programs and services as more emphasis is put on providing services to persons with disabilities while in the comfort of their own homes and natural environment. This will ensure that vital services continue to reach all those who need them and thus enhance their quality of life.