Thu, 11/07/2019 - 00:00
​Ellisville State School recently honored employees with five year increments of service at the Employee Appreciation Program held October 3. Employees received certificates and gifts of appreciation. A total of 119 employees were recognized, with 18 being commended for 25 or more consecutive years of service.
Among this year's honorees were Carol Dykes, Laurel: Vivian White, Laurel; and Linda Williams-Johnson, New Hebron, each of whom have been employed at Ellisville State School for over 40 years. ESS Director Rinsey McSwain thanked the three for their commitment and shared a little information about those who were present for the event.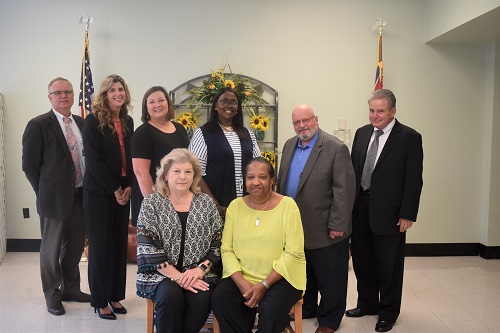 (40 Years) Standing L to R: Steve Allen, Deputy Executive Director of the Mississippi Department of Mental Health; Jennifer Fulcher, Director of the Division of Home and Community Based Services; Candy Maxey, ESS Assistant Director; Rinsey McSwain, ESS Director; Robert Landrum, Mississippi Board of Mental Health member; and Dr. Kenneth O'Neal, ESS Assistant Director. Seated, L to R: Employees with 40 Years of Service, Carol Dykes and Vivan White Not pictured: Dr. Linda Williams Johnson.​
Acknowledging Dykes' career at ESS, McSwain stated: "Her accomplishments and reputation as a leader are well known and valued."
"She has dedicated herself to the service of the individuals we serve at ESS, and has served as a leader to each and every LPN, RN, and DON (director of nursing) on campus and in the community," added McSwain.
"We are honored to recognize Carol Dykes for her 40 years of service to ESS in the medical field for the betterment of others."
In recognizing White, McSwain mentioned her employment with the Adult Activity Center for 15 years before she transferred to Horizons Meaningful Day Center in 1994.
"She is currently employed at Horizons and has been very dedicated to her job and working with our people," said McSwain. "When not at work, Vivian enjoys spending time with her family."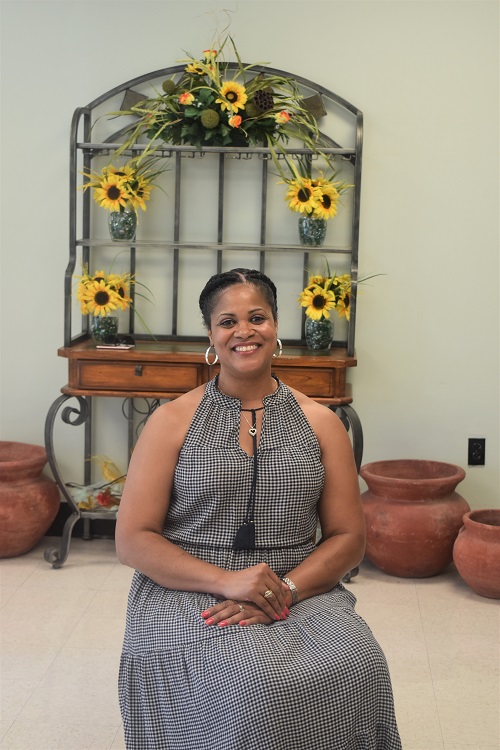 Robin Johnson 35 Years of Service​
Those with 30 years of service were Xiomara Bryant, Hattiesburg; Cynthia Cooley, Ellisville; Sonya Ferrell, Taylorsville; Linda Jones, Taylorsville; and Terry Keys, Ellisville.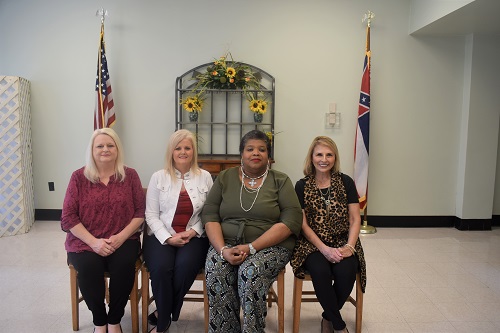 (30 Years) ​Seated, L to R: Linda Jones, Cynthia Cooley, Sonya Ferrell, and Xiomara Bryant. Not pictured: Terry Keys
Honorees with 25 years of service were Grace Amos, Laurel; Cordia Dixon, Ellisville; Ellington Evans, Laurel; Alma Ford, Ellisville; Cynthia Jenkins, Ellisville; Tiffany McInnis, Heidelberg; Thelma Orange, Laurel; Christopher Phillips, Ellisville; and Katrina Robinson, Vossburg.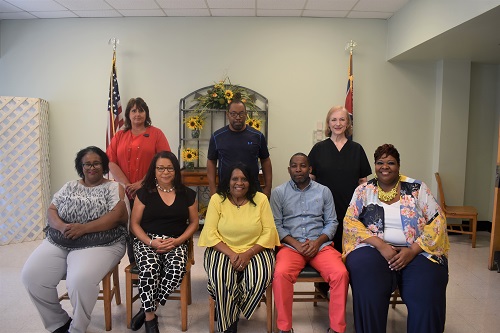 (25 years) Standing, L to R: Alma Ford, Ellington Evans, Cynthia Jenkins; seated, L to R: Cordia Dixon, Grace Amos, Thelma Orange, Christopher Phillips and Tiffany McInnis. Not pictured: Katrina Robinson​
Employees with 5, 10, 15 and 20 years of service were also honored. McSwain was joined by Steve Allen, Deputy Executive Director of the Mississippi Department of Mental Health and Robert Landrum, a member of the Mississippi Board of Mental Health, in congratulating the employees.